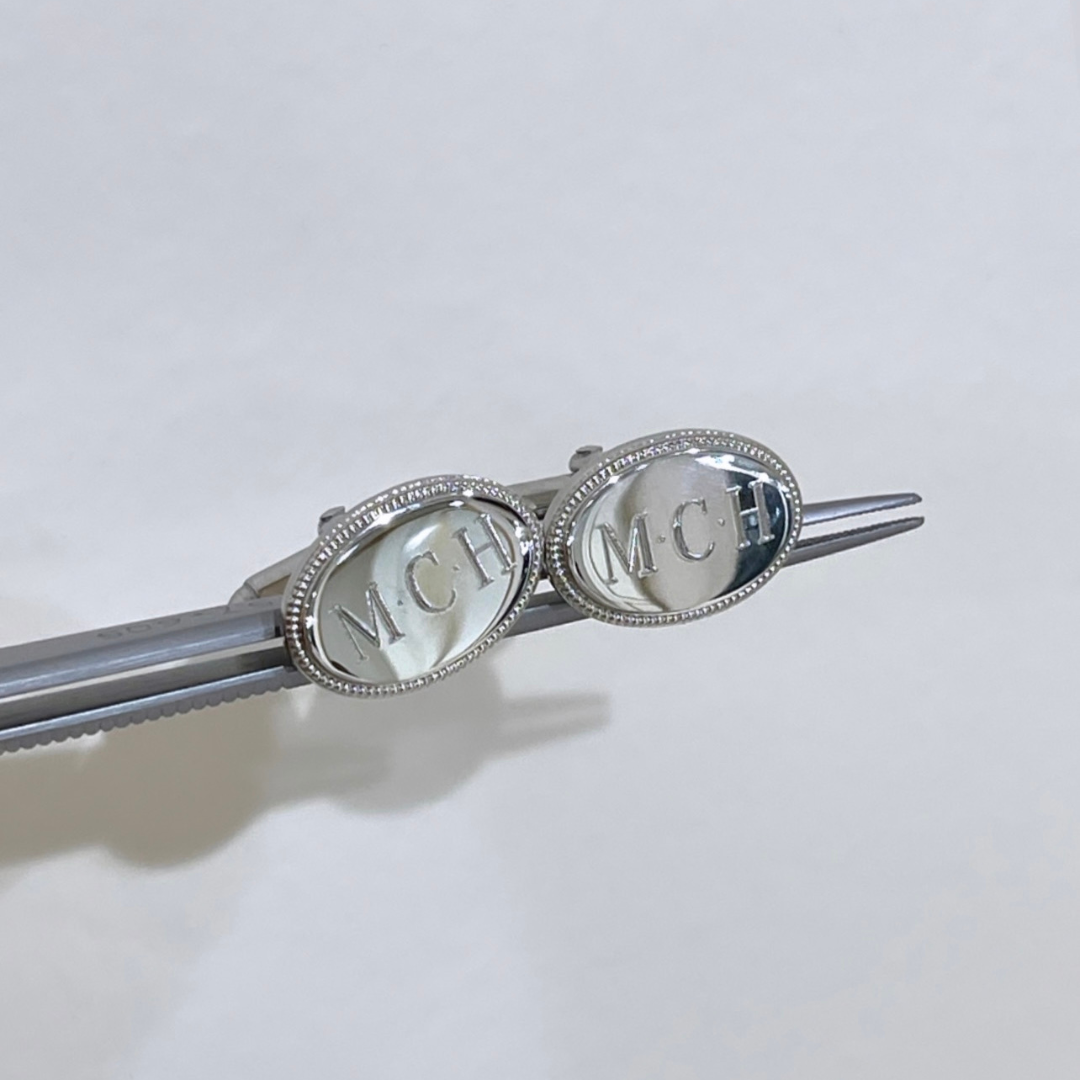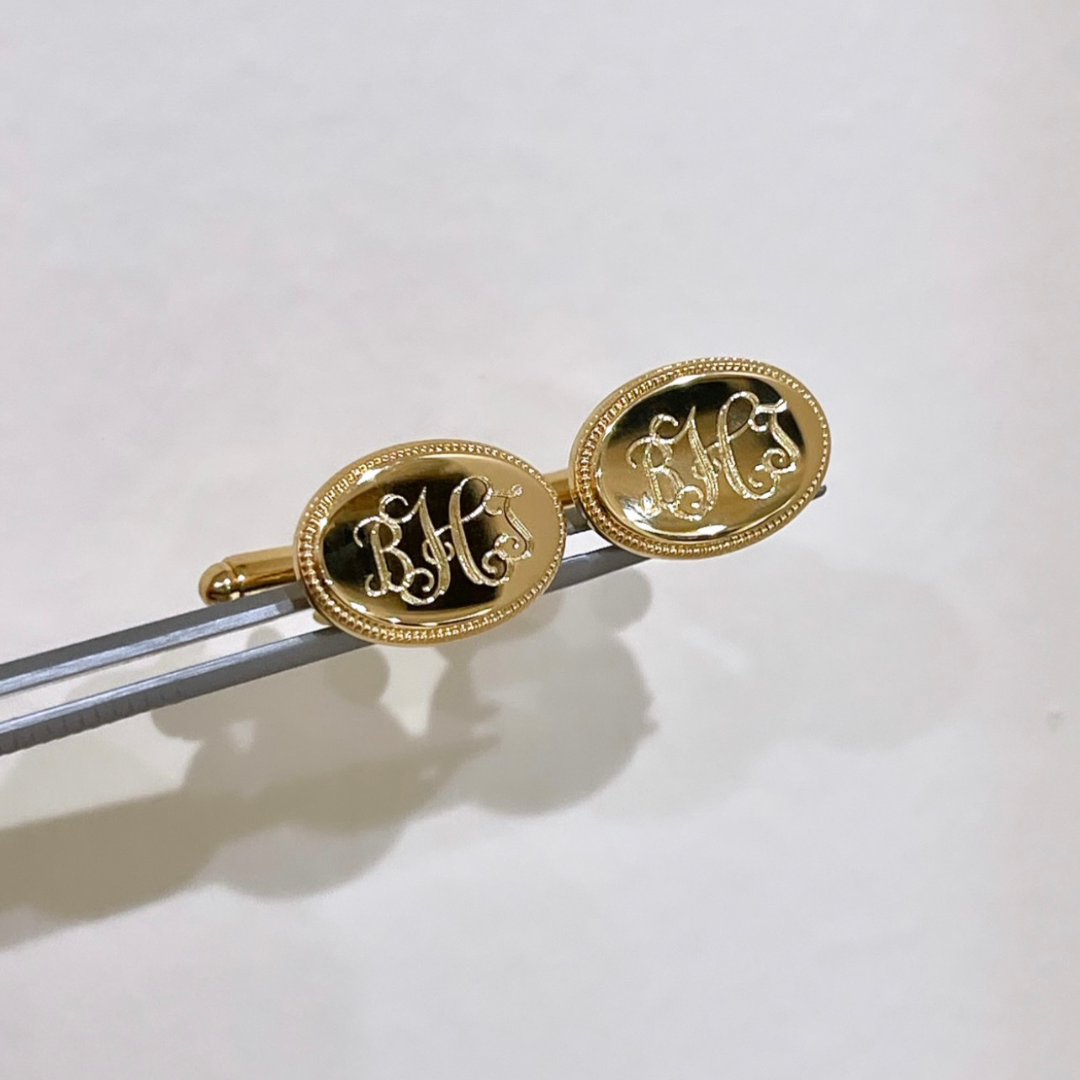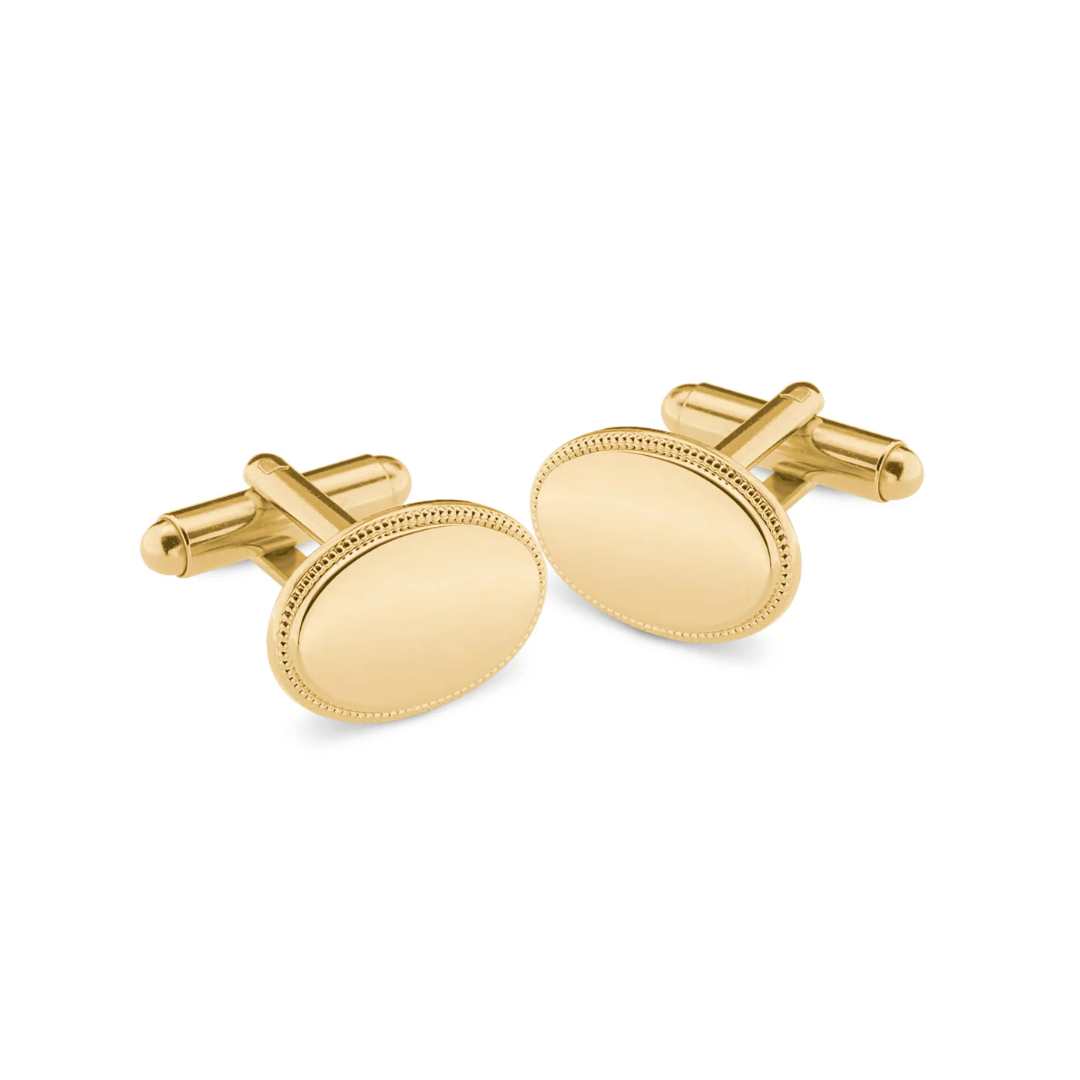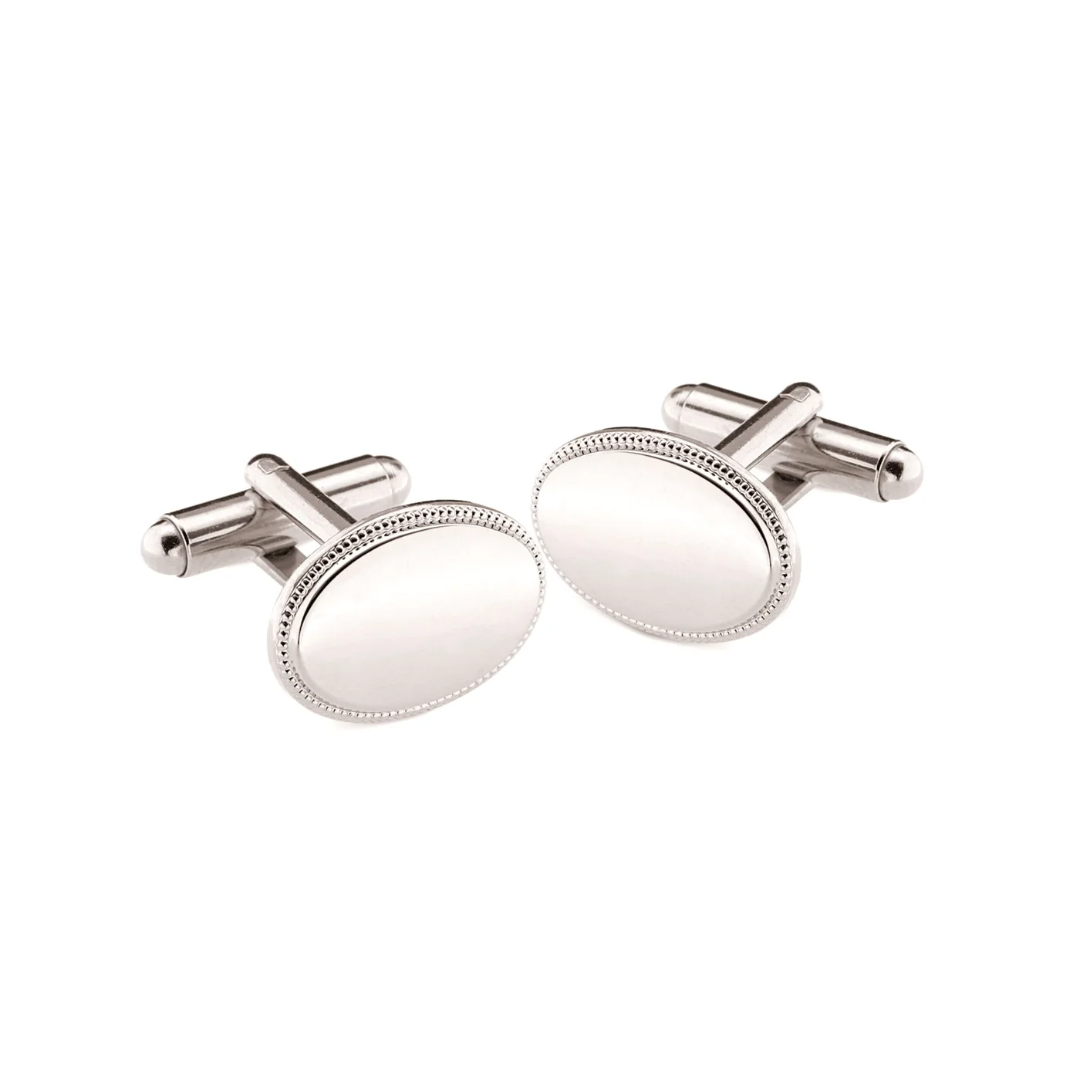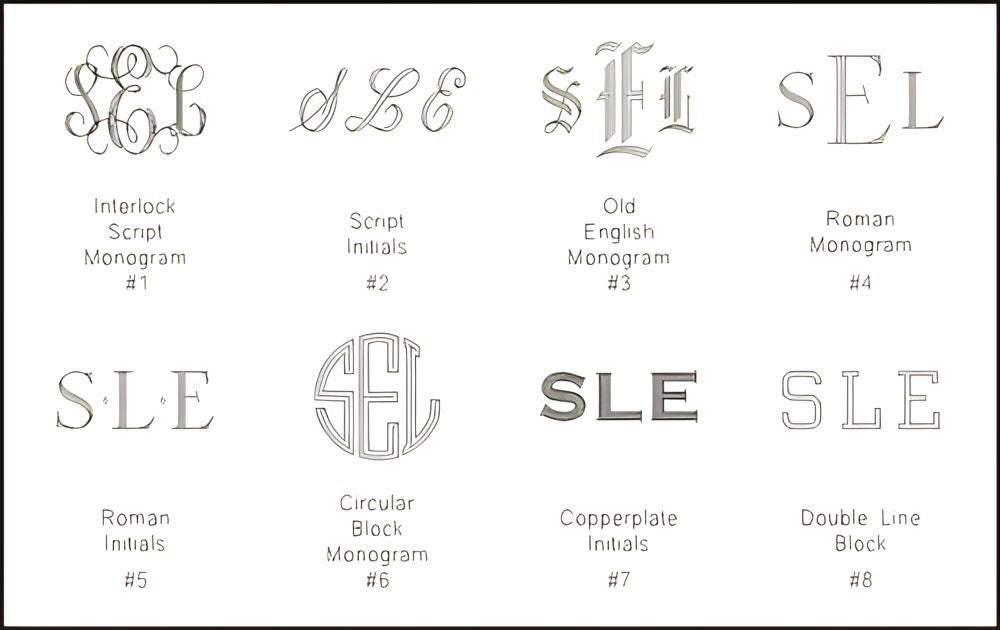 Oval Cuff Links with Beaded Edge
Make a lasting impression with these personalized oval cuff links with a beaded edge, crafted to the highest standard of luxury. Showcase your elegance and style with subtle sophistication that only the finest quality brings. These cuff links will be an unforgettable addition to any occasion.
FINAL SALE UPON PURCHASE
Metal Quality & Whats Available:
Yellow Gold Plated

Rhodium Plated

Details:
Set of two
Finish: Polished 
Edge: Beaded
Engraving:
Free Engraving available (30 characters max)
Provide a personal sentiment and/or monogram information. Please be sure that all spelling, grammar, capitalization, punctuation and line breaks are provided as you want the message to appear.
For monograms please give the three initials in the order you want them to appear.
BHT Yellow Gold Cuff Links shown in Interlock Script Monogram #1
MCH Rhodium Cuff Links shown in Roman Initials #5
Availability/ Shipping Times/ Custom Orders:
Availability: Our mens collection handmade, so turnaround time can vary. Please allow up to 3-6 weeks from the time of order. If you need more exact availability on a certain piece of jewelry or want to check if it is in stock, email bridal@rwfine.com
Shipping: Due to insurance requirements, we are only able to ship Next Day Air or Second Day Air. Your order will ship Next Day Air or 2nd Day air from the date of completion, not the date of the order.
What Size RingWraps Do I Purchase?
Order the same size RingWraps as your college ring or the ring that you want wrapped. If your ring does not fit, our in-house jewelers can resize it for you! RingWraps do add width to your ring, so depending on your finger/finger pad, RingWraps can in some cases make your ring feel tighter/more secure. If your ring is snug, it is best we resize your ring before getting RingWraps. RingWraps are very comfortable when they fit properly. We can also add a diamond to your ring, make repairs if needed, and remove or add antiquing. We are full functioning jewelers! *NOTE: if you are an Aggie and do not know your size, call the Association at 979-845-1050 & they will have your ring size on file.
My Ring Is Too Tight. Can You Resize That Before I Purchase RingWraps?
Yes, we resize rings often and recommend resizing your ring if snug as the RingWraps will add width to your ring making an already tight ring feel tighter. We want your RingWraps to fit comfortably therefore we offer complimentary resizing if done prior to receiving your RingWraps. There are additional charges applied after the RingWraps have been received as both the RingWraps and the ring would need to be resized.
When resizing rings larger, we actually ADD gold rather than stretch the ring (many jewelers just stretch the ring to add size) Our jewelers will match the shank of your ring exactly, and the resizing will be indetectable. NOTE: If you are concerned with your college ring warranty being affected, please check with the manufacturer of your ring.
Will RingWraps Make My Ring Fit Tighter?
RingWraps will only make your ring feel tighter if your personal ring is tight to begin with, or if you have a fuller finger pad. If this is the case, it is highly recommended that we resize your ring prior to receiving the RingWraps. RingWraps fit best when comfortable.
How Should RingWraps Fit? Should The Ring Gently Snap Into The RingWraps Or Just Sit Inside?
RingWraps can fit multiple ways, what is important is that your ring fits completely flush inside the RingWraps, that the pair fits comfortably on the finger together, and no prominent gaps are visible. Your ring may gently snap into your RingWraps or it may just sit in your RingWraps, both are correct. The RingWraps fit, look, and feel best when they fit correctly. If you have ANY questions as to whether or not your RingWraps are fitting correctly, please contact us!
I Just Received RingWraps And They Do Not Fit How They Fit In Photos On Your Website. What Do I Do
First, make sure you are putting your ring into the RingWraps correctly. SEE THE IMAGE BELOW FOR HOW TO INSERT YOUR RING INTO THE RINGWRAPS. If you see gaps in between the Ring and the RingWraps, try gently squeezing the RingWraps closer together to close the gaps. If this does not work, then contact us and we can very easily adjust the RingWraps to fit your ring. If your ring will not even fit down into the RingWraps, chances are you just need to slightly adjust the RW by very gently spreading them in order for your ring to sit down into the RingWraps . Place the side of a ball point in between the RingWraps and press softly/slowly. If there is still an issue with fit please contact customer service, and we can get the issue resolved.
NOTE- this will never be an issue for fully custom orders, only non-custom orders.
I Have Gaps On The Sides Of My RingWraps. What Can I Do To Fix This?
The Class Ring and the RingWraps are both handmade, so if the RingWraps are not fitting properly, please contact us by replying to your original order email and describing the issue/providing photos.
Each Class Ring has various degrees of wear and tear, which can affect how the RingWraps fit. Sometimes it is necessary for us to custom fit / custom make RingWraps to the Class Ring. We want our customers to have a flawless fit!
We will provide a UPS fully insured shipping label for you to send both the RingWraps and the Class Ring back to us so we can exchange it or customize the fit. If you notice there are prominent gaps on the side please contact us at orders@rwfine.com and we can have the issue quickly resolved.
NOTE- this will never be an issue for fully custom orders, only non-custom orders.
Can The RingWraps Be Resized?
Yes, we can resize the RingWraps. We do understand that throughout the years your ring and RingWraps may need to be resized. We HIGHLY recommend that we resize both the RingWraps and the College ring/ center ring. If someone else resizes your college ring/ center ring, then we will still require that ring for when we resize the RingWraps in order to ensure a flawless fit. There is a cost associated with resizing rings. This is because when we resize, we actually add gold, and do it the right way, rather than just stretch out your ring/RingWraps.
Can You Resize? Do I Need To Make Sure My Ring Fits Before I Get RingWraps?
Yes, we can resize the RingWraps. We do understand that throughout the years your ring and RingWraps may need to be resized- not a problem. If you need resizing after you own RingWraps, there will be a fee. This is because when we resize, we actually add gold, and do it the right way, rather than just stretch our your ring/RingWraps.